STAGE
click the images for theatrical links
MAD Improv is Madrid's forum for English Improvised Comedy and Theater. Founded by Benjamin on January 1, 2014 with the patronage of Scott Cleverdon & Assumpta Serna and their amazing acting for the camera school: Fundación First Team. What is MAD? Umm… Well, explaining a name is a lot like explaining a joke and we at MAD Improv pride our selves in our sense of humour. So we won't explain the methods to our MADness, suffice is to say that here in MADrid, we have MAD creativity.
The lifeblood of our institution however can be explained. It is a our common necessity to communicate on a creative platform and very importantly to laugh. We meet weekly (Saturdays) and perform monthly (3rd Friday of the month). All our rendezvous are completely open to all.
"An actor from New York and a comedian from Orlando walk onto a stage in Madrid." Nope, it's not the beginning of a joke, but the result will make you soil your pants with laughter. This teaser/trailer is a compilation of some of Kirk Bonacci and Benjamin Nathan-Serio's first shows in Madrid where they developed their two-man improv show SERIOUSLY HONORABLE MEN. For more information, to reserve tickets or just to harass them with your love, contact Benjamin at SerioParadio.com.
Trap Door Theatre International is a newly formed group of international artists who have come together thanks to Artistic Director Beata Pilch to present their first production as a new ensemble. 'Blood on the Cat's Neck' is an absurdist play originally written in the early 1970s by German playwright Rainer Werner Fassbinder. It explores the question of how an alien from outer space might see Earth and its inhabitants. The alien in question takes the form of an attractive woman named Phoebe Zeitgeist, herself an alien vampire taken from a 1960s comic book, who learns to speak from less-than-ideal examples of humanity at a cocktail party.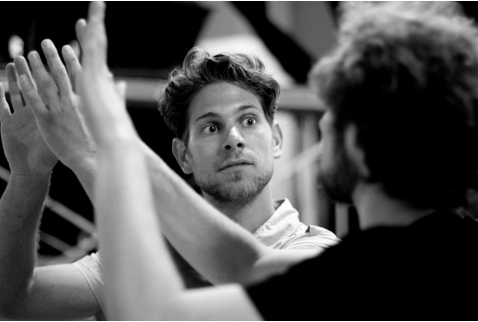 The Barcelona Improv Group (BIG) was born in the basement of a friend's bar in the Gothic neighborhood of Barcelona sometime around the fall of '12. The group has flourished playing to sold out monthly show, hosting what has grown into the largest European International Improv festival now in its 4th year and offering classes, workshops, jams, gyms & corporate training. Book your tickets here.
The below are still photos from Benjamin's numerous collaborations with the hilarious Barcelona theater company JOCULAR THEATRE, run by the genius, visionary director, Joshua Zamrycki. Benjamin acted in 4 of Jocular's productions from 2006-2011.
Past Theatrical Collaborations